Group Therapy
Immerse Yourself into Valuable Group Therapy Sessions
In a group therapy setting, while it's true that each of us is unique and may have unique circumstances, none of us are alone in our struggles. It increases the sense that "we're all in this together," and normalizes suffering. Rather than getting support solely from the clinician, members of a group therapy session are encouraged to turn to each other for support, feedback, and connection. The members also share their own experiences. They share how they've navigated loneliness or overcome isolation, offering hope, inspiration, encouragement, and sometimes offer suggestions. In the safe atmosphere of group therapy, members can get honest feedback from their peers.
We strongly encourage members to notice how they're feeling throughout the session and to talk about it. It is common that people don't know how they are feeling when they are interacting with other people, because it can be tough to be self-connected when connecting with others. Recognizing your experience of yourself can be an eye-opening experience. Instead of asking someone a question, group therapy allows individuals to divulge into why they're asking that question. Instead of just giving advice, the advice sharer also shares what is motivating them to give that advice.
Through group therapy, clients discover new options for how to relate to others. It helps people get unstuck from patterns of relating that are not serving them. The opportunity for genuine connections allows the practice of being authentic and speaking up for themselves.
Group therapy is especially valuable for individuals dealing with depression, social anxiety, and life transitions. Discussions in private therapy differ from those in group therapy by addressing internal reactions in a group therapy session and getting feedback from peers supports the healing process.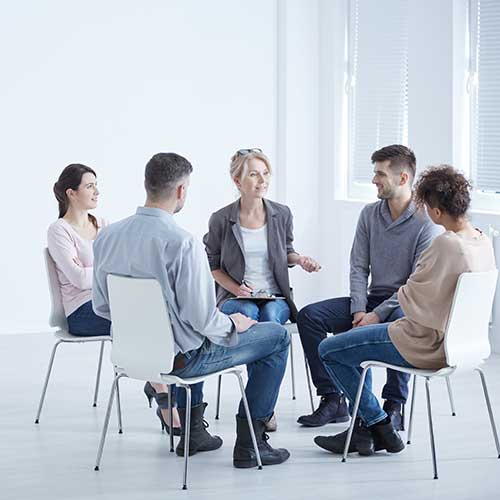 Our caring team is standing by to help and answer any questions you may have about our group therapy or our approach to addiction treatment with no judgement.
What Sets Midas House Apart?
We Care and Understand
You don't have to go it alone. We are here for you on your journey towards recovery and want nothing more than your success in life without addiction or substance abuse.
Not a One-size-fits-all Treatment Center
We know that each person is unique and has their own set of challenges. That's why at our treatment center, we provide a high-level personalized approach with evidence-based treatments for positive results!
Feels Like a Home, Not a Medical Facility
You'll find our residential inpatient treatment offers spacious living spaces with no more than six patients at once ensure the perfect environment for your rehab journey.
Engaging Activities to Keep You Centered
Activities like exercise, hiking, yoga, massage, lake activities & nature walks will focus your mind on what's important to help you heal and keep your body healthy.
Most Insurance Accepted
We know that insurance coverage can be a real source of uncertainty for people, and we want to make sure you have all the information necessary. The great news is health insurance covers the total treatment costs. Even If you don't have insurance, we offer low cash payment options for our treatment programs. We are committed to working with individuals who need treatment regardless of their financial situation.